Head-Up Display Technology | Sherman, TX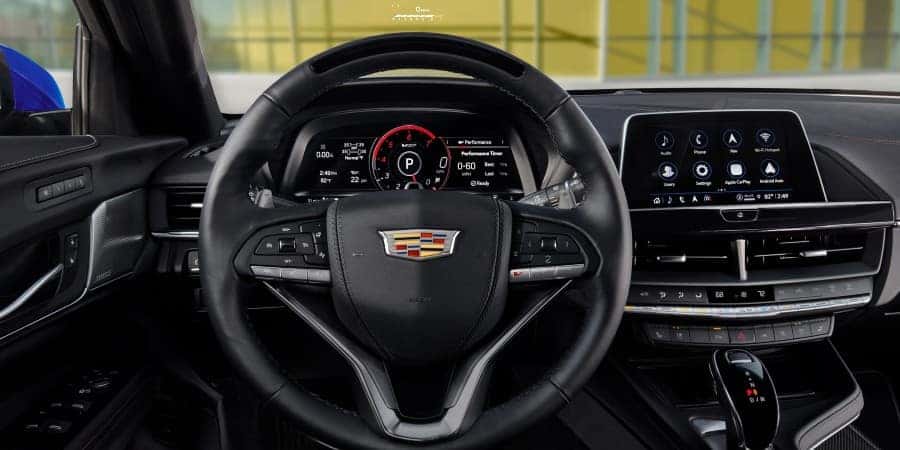 Cadillac vehicles offer the latest and greatest safety and convenience technologies. The Head-Up Display is one of these innovations — it enables you to view critical driving information, such as collision alerts, navigation instructions, and your driving speed, all without taking your eyes off the road. Here's how this helpful tech tool works inside your Cadillac.
Windshield-Projected Displays
Using a projector built into the dashboard, this form of HUD superimposes your driving data right onto your windshield. Using a system of mirrors, the projector enlarges, flips, and enhances the image.  In a Cadillac, it can typically display your speed, tachometer, audio settings, phone call information, navigation instruction, driver-assist warnings, cruise control states, and low fuel notifications.
You'll find this classic version of the HUD in popular Cadillac models including the XT5, XT6, and Escalade. Consult your Cadillac owner's manual for specific details on how to customize your display and reposition the projection.
Augmented-Reality Displays
The Cadillac LYRIQ boasts no shortage of innovations — including its augmented reality head-up display. This futuristic feature projects color graphics in front of you, highlighting relevant information such as radar-detected road obstacles and other data that the vehicle's sensors pick up. This advanced feature will even integrate with the Super Cruise™ hands-free driving system, although the details haven't been revealed yet.
Caring For Your HUD
Like other vehicle components, the HUD in your Cadillac needs occasional care and maintenance to help keep it performing at its best. If the image from your HUD appears fuzzy, clean the windshield and projector lens with a soft cloth dampened with glass cleaner. If no image is being projected on the windshield, check to ensure that nothing is covering the projector, and that the HUD is adjusted to a proper brightness setting, and that it's positioned to project in a visible spot on the windshield. Also, note that the HUD projection may not be visible if you're wearing polarized sunglasses.
---
If you're in the market for a cutting-edge luxury vehicle, choose an XT5, XT6, Escalade, or LYRIQ from Sherman Cadillac in Sherman, Texas.