2023 Cadillac Escalade-V Preview | Sherman, TX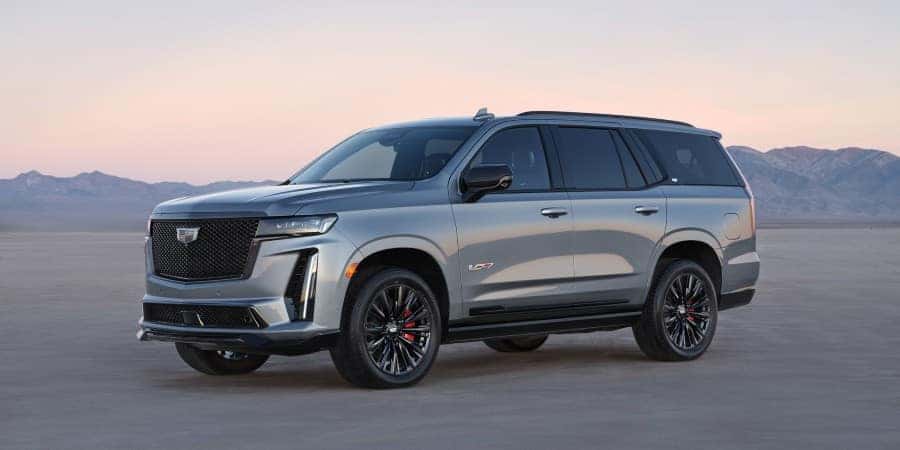 The 2023 Cadillac Escalade-V stands proud as the new pinnacle of the Cadillac lineup. To set it apart from the already-impressive Escalade, this V-Series model features a supercharged 6.2-liter V8 engine and a wealth of exclusive styling cues. Here's how the first-ever Escalade-V provides a driving experience like no other.
Power and Performance
The hand-built, supercharged 6.2-liter V8 engine is the crowning glory of the 2023 Cadillac Escalade-V. This beastly engine delivers a thrilling 682 horsepower and 653 lb-ft of torque. Paired with the custom-tuned 10-speed automatic transmission, this powertrain provides a dynamic and responsive ride.
But you don't have to take our word for it — thanks to this duo, the Cadillac Escalade-V can rocket from 0-60 in just 4.4 seconds and boasts a quarter-mile time of just 12.74 seconds at 110 mph. And on top of that, this transmission provides full-time active all-wheel-drive by intelligently distributing torque between the front and rear wheels based on current driving conditions.
But the Cadillac Escalade-V has more than just speed and power. Enjoy nimble handling and a refined ride thanks to its exclusive six-piston Brembo® front brakes, the uniquely calibrated Air Ride Adaptive Suspension system, and Magnetic Ride Control 4.0 — all standard on this groundbreaking SUV. You can even customize your ride with a range of selectable driving modes, including V-Mode, which enables you to tailor the vehicle's performance settings.
V-Series-Exclusive Styling
The 2023 Cadillac Escalade-V delivers more than power and performance. It also sports a wealth of eye-catching exclusive styling cues. Custom-designed 22-inch aluminum wheels make the Escalade-V stand out from the crowd. Plus, you can make a statement with this model's custom V-Series fascias, exclusive badges, quad exhaust outlets, and striking Edge Red brake calipers.
---
If you're ready to treat yourself to the ultimate driving experience, upgrade to the 2023 Escalade-V, available this summer. Contact Sherman Cadillac in Sherman, Texas, to reserve your dream SUV today.