5 Coolest Features of the 2023 Cadillac Lyriq | Sherman, TX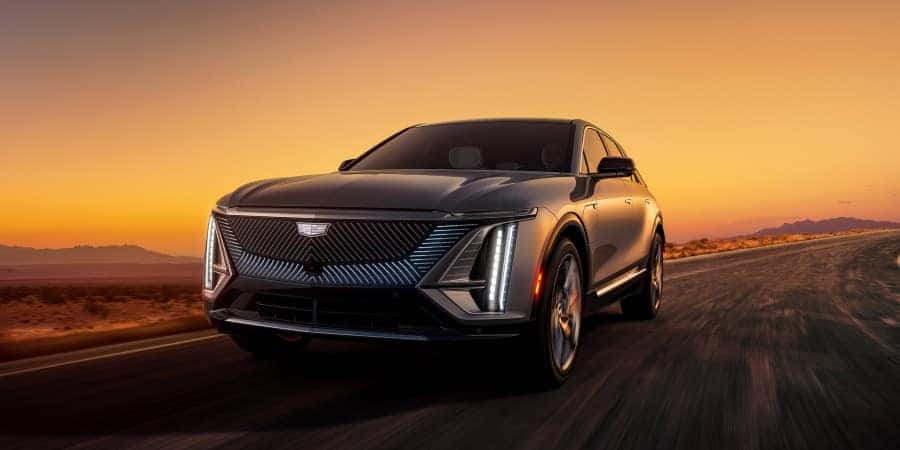 The 2023 Cadillac Lyriq is undoubtedly one of the coolest cars made in a long time. The all-electric SUV made its debut on September 18 to usher in a new era for the American luxury automaker. These are the five coolest features of the 2023 Cadillac Lyriq we think customers should be looking forward to.
Animated Lighting
Most new cars have standard or optional LED headlamps that make unique lightning signatures possible. The Lyriq is taking this to the next level with animated lightning sequences using 736 exterior LEDs. For example, they'll dance into different patterns when you arrive or depart from the vehicle.
Ultra-Fast Charging
Range anxiety continues to be the main reason consumers shy from EVs. The Lyriq alleviates common concerns with over 300 miles of range and at-home Level 2 AC charging.* For every hour it's plugged in at home, you get 52 miles of range back. At public fast-charging stations, you get 76 miles of charge in only 10 minutes.
Hands-Free Super Cruise™
The latest version of Super Cruise™ will launch on the 2023 Lyriq with compatibility for more than 200,000 miles of road across the United States and Canada. Though by the time the car arrives in showrooms, that number may be even higher.
Next-Generation Design
No engine means Cadillac designers could get even more creative than usual. For instance, the Lyriq doesn't need front air vents to cool the engine, so instead, it has a truly unique and exclusive Black Chrystal shield grille with three-dimensional texturing.
Dynamic Handling
Thanks to the Ultium battery pack built integrated into the floor, the 2023 Cadillac Lyric has an exceptionally low center of gravity and excellent weight distribution. As a result, it handles like a dream. The 325 lb-ft of instant torque from the electric powertrain is just a nice bonus.
---
If you're interested in the new, all-electric Lyriq, make sure to reserve it at Sherman Cadillac in Sherman, Texas.

*Based on GM testing. GM estimated. EPA estimates not yet available. Actual range will vary based on several factors, including temperature, terrain, battery age, loading, use and maintenance.